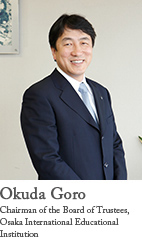 Osaka International Educational Institution was able to celebrate its 90th anniversary ceremony with many guests in November of 2019. After this, the social situation changed completely due to the COVID-19 pandemic. I feel that it was a miracle to be able to hold the 90th anniversary ceremony.
 This year too, we have been fighting hard against the virus that is shaking the world. In the midst of the difficulty of sharing reliable information, the code of conduct as a human being that cannot be judged by knowledge alone has been questioned throughout the world. At the 90th anniversary ceremony, I borrowed the words of the German philosopher Markus Gabriel and said, "Modern society is too obsessed with one sense of value and dangerous." And I continued, "I want to focus on the development of human resources who can create various values." But only this time, the only exception is that it feels great that the world is serious about the single value of 'life'.
 The redevelopment plan for the school will be completed soon. The final reform of secondary education has begun to be concretely implemented, such as the construction of a new campus building in Moriguchi City, which is already undergoing preparations. The concept of this new school, as mentioned above, is to develop human resources who can lead the region, society, and the world in the course of global initiatives.
 From now on, I sincerely hope that not only Japan, but the whole world will overcome the current hardship and that the creation of a new world will proceed. We will work together as faculty members to ensure that children who graduate from this school can play an active role in society at that time.
 We are also committed to being the focus of the centerpiece of the community in terms of cultural and athletic activities to play a central role in a "community that nurtures young minds" in an area not limited to the Keihan Railway line's Moriguchi or Kadoma Cities but as an all-encompassing educational institution.
 To achieve this, we must seek the strength of communities, corporations, and society. In the future as well, we ask that you extend your warm guidance and encouragement to all of the students of Osaka International Educational Institution.